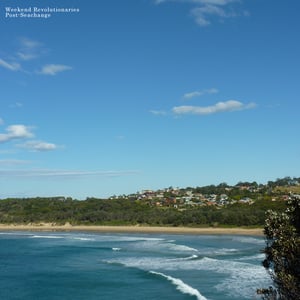 $

19.99 - On Sale
LIMITED TO 20 COPIES
'Post-Seachange' is the second LP released by Australian electronic music project Weekend Revolutionaries. Recorded between March and July 2010, the album is more expansive in style and epitomises a more widescreen style for Weekend Revolutionaries. The physical release will be limited to just 50 copies and will be available exclusive to the Weekend Revolutionaries Big Cartel Store.
The companion album of 'Post-Seachange', entitled 'Coastal Mentality', was an emotive synth-based album with ambient elements, seeking to explore the inextricable relationship between atmospheric weather and emotion. 'Post-Seachange' seeks to delve conceptually into life after the physical and metaphorical 'seachange', exploring both coastal and urban elements of life.
The album consists of 16 tracks spread over 80 minutes, and epic tracks like 'Tunnels' and 'Fly and Fall' explore new ground in comparison to previous Weekend Revolutionaries material. 'Last Journey' and 'Different Island' are expansive soundscapes with melodic synth lead lines and openly present a sense of hope and ambition, while tracks such as 'Industry' and 'Overpass' convey a sense of anxiety and nostalgia respectively. The album encompasses a range of moods and is designed to be a unique experience for each individual listener.